I was planning a trip to Auli (a popular ski and winter sports destination in Chamoli, Uttrakhand) since quite some time, but was never able to finalize my travel plans. Every time one or the other reason played showstopper but finally everything got materialized last weekend. So, I booked my train tickets, packed my bags and left Delhi on 21st January.
Next day I reached Haridwar and from there I took a private cab which further took me till Joshimath. From Joshimath, the only way is using a ropeway!
I took the ropeway for Auli. The ticket costed Rs. 500 per person (return journey included). The cable car runs only at fixed times during the day, and the last one runs at 4:30 PM. The car can take 25 passengers in one go, but will not start until it had a minimum of 10 persons on board. I took the car at 10:30 AM, and the moment the car started its upward journey, a strange sense of excitement engulfed me. While going up, the moment the car crossed tower number 3, the kids in my car started shouting "snow-snow" as we passed through some small patches of snow on trees and roads below. The terrain slowly started turning white from dark green as we continued our journey upwards. Tall fir and pine trees, most of them covered in snow, offered a great visual treat. Then suddenly, everything turned white below us as we passed tower number 7. And I could see great peaks like Nanda Devi (second highest peak in India after K2) on our left side, and just behind my back were the three famous peaks: The Lotus (Kamal peak), the Horse's Saddle peak, and the Elephant peak. They simply looked so majestic!
I got down from tower no. 8, people who were not staying in Auli went till tower no. 10, but those who were staying here, had to get down at no.8. The whole journey took some 20 minutes. The lift at the tower was not working, so I had to climb almost 10 floors with my bag… which was quite tiring.
Auli: Final Destination
After I reached the base of the tower, I was greeted with fresh white snow. The first South Asian Winter Games had just finished, and the main ski slope was right next to the tower no. 8. The slope looked a bit slippery and it was quite scary at first as we had to cross it in order to take the go to our hotel (GMVN). But I crossed it without any issues, and it was fun to travel through fresh snow.
Hotels in Auli
There are two main hotels in Auli:
Cliff Top: this is a 3-star hotel located near to tower no. 8. We checked this out first, rooms were quite decent and given its excellent location, it offered a 270-degree view of the Himalayas. Room starts at Rs 4000 per night (double occupancy). Food up here is quite costly, almost two times than at GMVN below.
GMVN (Garhwal Mandal Vikas Nigam): This government owned hotel was around 800 metres below Cliff Top. There is a cable chair car which takes you down from tower no. 8 to GMVN and the ticket costs Rs. 200 per person (return journey included). Since the winter games were over, the bookings were available at GMVN easily. Room starts at Rs 2000 per night.
After checking out both these options, I decided to stay at GMVN because it was way cheaper than Cliff Top, and offered the same facilities. We got a big room for ourselves with warm water facilities, oil heaters, coffee/tea maker and LCD TV with cable connection. Also, the food was much cheaper here than at Cliff Top. They also had a big recreation room, with table tennis, pool table and carom boards.
I stayed for two nights at GMVN, and I must say it was one of the best holidays I have ever had. The room I booked was for Rs 3000 per day. The food was palatable, they had vegetarian and non-veg dishes, and the quality of food was good. And it was decently priced too! A meal, including non-vegetarian items, costed around Rs 250 only. Room service was excellent, the staff being very friendly and courteous. Also, I realized that the water quality was good most of it being pure glacial water, and it rendered a certain taste in the food cooked in it. I wish we could get such pure water in Delhi! I used to ski and trek in the mornings and then used to play Table Tennis, Carom and Pool after lunch. No wonder why I am missing Auli so much now 🙂
Skiing in Auli
I learnt skiing for two days but realized it was not enough. Skiing is not an easy sport, but it was fun and exciting to learn. there are many instructors who offer their services at Rs 300 per person per day. You get the skiing gear and boots from them at no extra cost (except hand gloves). The instructors are quite nice, but you cannot learn skiing or snowboarding in two days. A seven-day course is a must to learn beginner level skiing. GMVN offers many such courses starting Rs 10,000 onwards.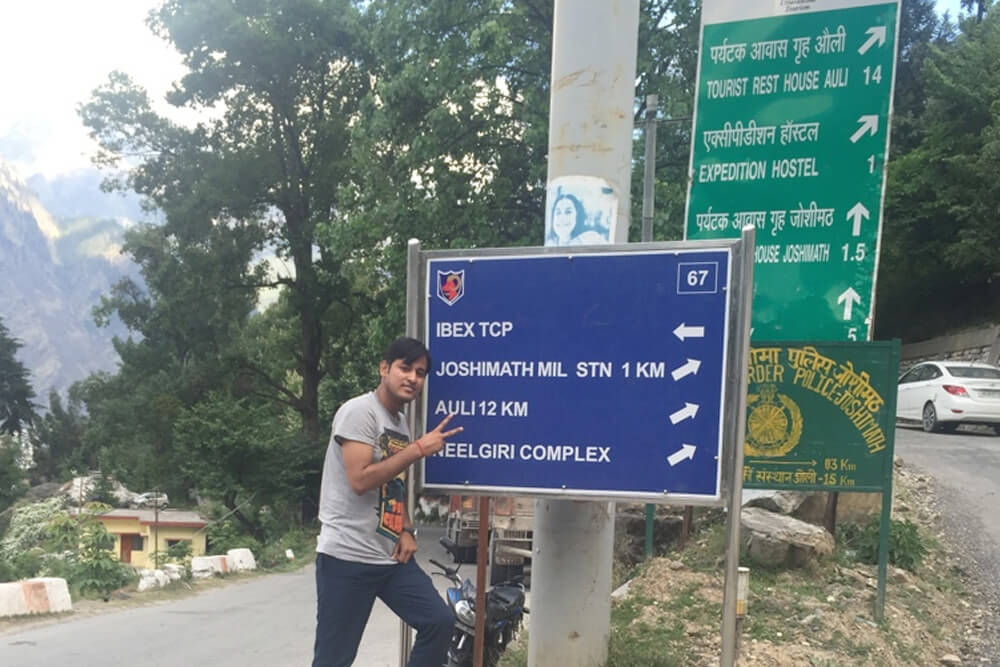 I tried my hands at skiing for only a few hours each day, as I would get tired after 3-4 hours of skiing considering low oxygen levels. I spent rest of the day trekking and exploring places. There is a man-made artificial lake near Cliff Top, touted as the highest artificial lake in the world. I was told that it is being used to create artificial snow during Winter Games if it doesn't snow enough.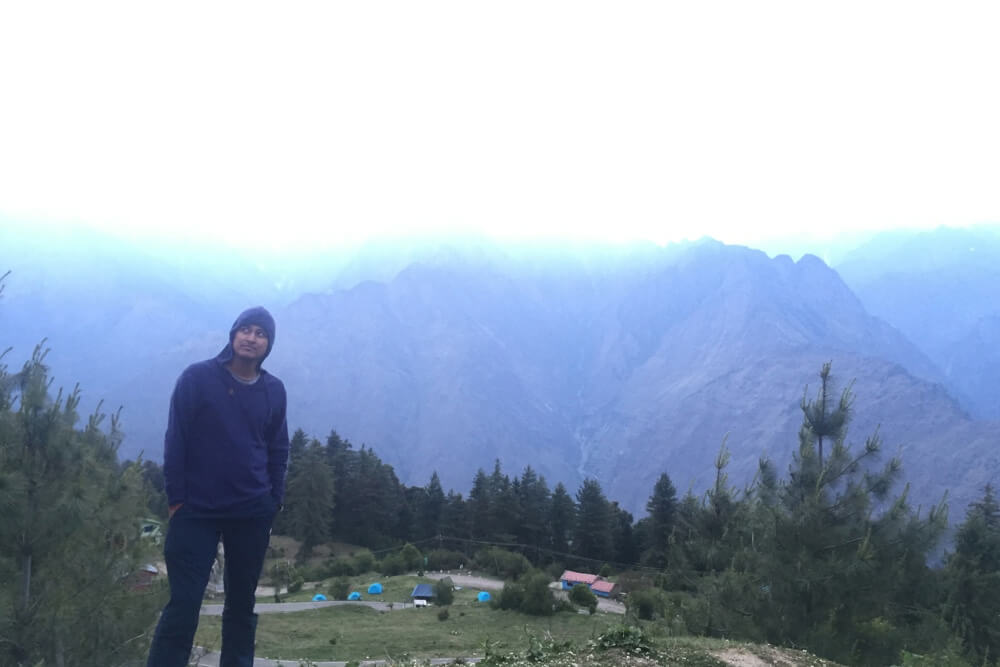 Bare Essentials
If you plan to go to Auli during winters, here is a list of must-haves':
Good water and snow proof jacket and ski pants: I would have bought North Face jackets, but unfortunately, they are not available anywhere in India. So, I had no option but to opt for Mountain Black jackets. I got a good ski jacket in Delhi for Rs. 4500 which had a fleece under-layer and a solid waterproof and snow proof cover. A good jacket must cover your neck and head too so that snow particles do not steep in. Fresh snow is mostly powder like, and while rolling in snow, or just playing around, such fine snow particles can enter your clothes causing huge discomfort due to wetness. A pair of good ski pants will also help you, but since I was a novice skier, I got a pair of waterproof track pants.
Boots: Make sure you have a good mountain boots so that you don't skid off the slippery slopes. Sneakers are a strict no-no if you plan to trek in snow. The mountain slopes can get very slippery so bring along a sturdy pair of mountain boots. You do not need to bring your ski boots (unless you are a professional skier) because you get them from the instructors while learning to ski.
Hand gloves: Get a thick padded waterproof pair of hand gloves. You will not regret it!
Sun screen and polarized glasses: the harmful effect of Sun's UV rays increases with elevation so a good sunscreen (SPF 20 or higher) should be used before venturing out in the Sun. And I personally recommend polarized sun glasses to cut the glare of the snow as snow reflected sun light is quite bright and can damage your eyes.
After spending good time in Auli, I left with a somewhat heavy heart. The last cable car (to Joshimath) was at 4:30 PM. Going up the tower 10 floors was much tougher with our bags! I stayed one night at Joshimath and went back in the same cab to Haridwar. I had lunch at Rishikesh and then took a Shatabadi from the Haridwar station and reached Delhi late night.
I enjoyed my stay at Auli so much that I plan to return soon, and join the ski-course by GMVN. Auli is indeed a beautiful pearl nested in the arms of Greater Himalayas!
– The Indian Tourist
Best places to visit in January
Best places to visit in February
Best places to visit in March
Best places to visit in April
Best places to visit in May
Best places to visit in June
Best places to visit in July
Best places to visit in August
Best places to visit in September
Best places to visit in October
Best places to visit in November
Best places to visit in December
Join the Newsletter
To receive our best monthly updates