Early morning, I got ready, expecting a very nice trip ahead. As I had decided to use a rented car, it arrived at the scheduled time at 6 am and I started loading my luggage. With all the positive energy and expectation, I started my journey at 6.30am from Noida. The vehicle was very much comfortable and the condition of road till Haridwar was also very good which was complementing the comfort. After covering almost 100 KMs, it started raining heavily. I felt as if, it showered to welcome us for the auspicious journey. As I had started very early, by now it was the time for breakfast. I just waited for the rain to stop. I parked the vehicle at a road side dhaba just before Purkaji and tried some aloo paratha. Food was good. After having breakfast, I started again and reached Rishikesh at 2 PM. The location was excellent and was jewelled with picturesque landscapes. After a night halt, I decided to move ahead and it was more exciting as I was now getting close to my first ever the Kedarnath journey.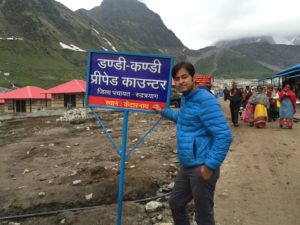 Started exactly at 6AM am and headed for Gaurikund (the last place for vehicular movement). After that one must trek and go up 14 KMs. Gaurikund is around 35 KMs from Gupkashi and I reached well in time. Gaurikund was full of pilgrims, horses and ponies. I smartly hired the ponies for the mountain trek as it seemed difficult to go up on foot… The pony riding was something new for me and honestly, I enjoyed it thoroughly. Though sometimes the pony use to walk a bit weird causing an aching sensation in my back, but my destination was truly worth it. However, I reached Rambhara which was just the halfway. Just like any other hill station here also Maggie and Chai came to rescue me from the rats making the devastation my stomach. Soon, after I finished my refreshment session, I headed towards the scenic beauty of Sumeru hills and Mandakini river, no wonder they call this land a Devbhoomi! Jewelled with lush green surrounding and brightened snow-capped mountains were a treat to my eyes.  After a long round of trekking I could finally take a glimpse of the much awaited Kedarnath… I was aww-stroked to see that beauty and all I could wonder was god might have sketched this beautiful painting himself in leisure and then blessed it with life. I reached the govt guest house at 1 pm and contacted a priest to conduct our Puja rituals.  While the temperature was chilling me to my bones and I managed to reach the temple complex somewhere around 2 pm. My puja was offered properly and I was quite happy after having the Darshan (sight) of Kedarnathji. I was lucky enough that I did not encounter much crowd which made our temple visit more smooth and easy. After a short inner conversation with Kedarnathji and seeking his blessings. I left the place with an over-joyed heart and a mind full of memories that is never going to fade.
After coming back to the guesthouse, I relaxed the whole evening and enjoyed the awesome weather. The lush green backdrop, snow-capped mountains and the velvet touch of grass!!!! Well, I am not sure if I am ever going to forget them anytime soon.
Best Time To Visit: Kedarnath is cold for the most part of the year, however, May to June and September to October are the best time to visit Kedarnath. Winter ranges from November to April, reaching sub-zero temperatures along with heavy rainfall. Summertime (May-June) brings pleasant weather, ideal for visiting Kedarnath and other nearby sites. However, monsoons fall from July to August and bring heavy rainfall, causing landslides and hindrance
How To Reach: I would advise to take a bus from Delhi, which is easily available.
However, if you are willing to go by train you can go up to Harrawala which is 107 Km from Kedarnath.You can also consider going on your own vehicle as Gaurikund is the point where road to Kedarnath ends and an easy trek of 14km commence.
The Indian Tourist
Best places to visit in January
Best places to visit in February
Best places to visit in March
Best places to visit in April
Best places to visit in May
Best places to visit in June
Best places to visit in July
Best places to visit in August
Best places to visit in September
Best places to visit in October
Best places to visit in November
Best places to visit in December
Join the Newsletter
To receive our best monthly updates