Situated at just 122 km from Delhi and 150 km from Jaipur on the Delhi- Jaipur highway, Neemrana is a wonderful ancient historical town which has often served as a quixotic weekend getaway for people in and around the National Capital Region of Delhi and Gurgaon. The most significant and popular highlight of the town is the Neemrana Fort Palace, a site that dates back to the year 1464. Situated 2 km from the town, the fort was once the seat of Rajput Maharaja Prithvi Raj Chauhan III.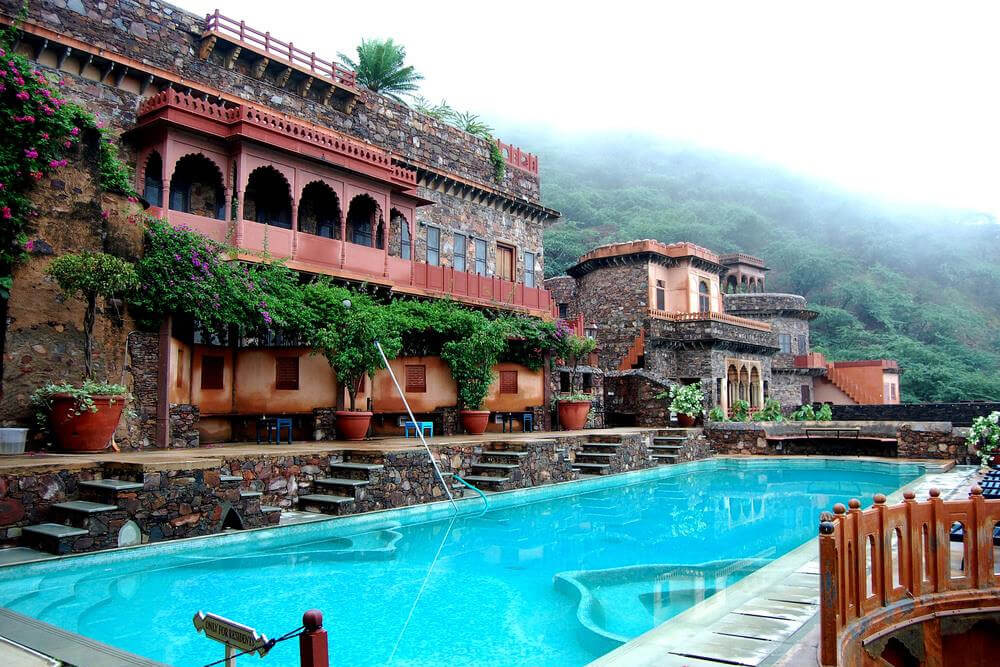 The fort, occupied by the Chauhans well until 1947, has now been converted into one of Rajasthan's oldest heritage luxury hotels, which offers a blend of heritage and celebrations with activities including zip- lining and swimming.
The Neemrana Palace is equipped with a swimming pool and a high quality dining arrangement. Around five in the evening, the staff serves high tea and masala tea with some of the best pakoras. The rooms are quite spacious and adorned well with decorations. Some might find the price to be too heavy on the budget, which is why economic planning before the visit is recommended.
Things to Do at Neemrana
Zipping:

Neemrana boasts of India's first zip tour, an aerial adventure that is thrilling to the core.

Camel Ride:

The fort- palace which spans over 6 acres can be best explored through a ride atop a camel.

Swimming:

Raj- kund, the pool-on-the-plateau is a perfect spot for swimming, along with soothing spa facilities.
Vintage Car Ride: Resident guests at Neemrana Fort-Palace can now enjoy a 5 km Vintage Car Ride around the Neemrana village for just Rs. 1000 (3/4 people).
You can have a very good weekend trip here at Neemrana Fort Palace, but you need to be prepared to let loose your wallet for almost everything as nothing is provided complimentary or free here. Also, their prices undergo frequent changes, which is why you'll have to run a query at the hotel before you plan your visit.
That being said, the place is absolutely magical and worth all the money you'll be planning to spend. The terrace- top dinner atop the Fort, overlooking the lovely town below is sure to mesmerize you for a long time.
– The Indian Tourist
Best places to visit in January
Best places to visit in February
Best places to visit in March
Best places to visit in April
Best places to visit in May
Best places to visit in June
Best places to visit in July
Best places to visit in August
Best places to visit in September
Best places to visit in October
Best places to visit in November
Best places to visit in December
Join the Newsletter
To receive our best monthly updates