On 7 July 1992, Mr. Willy T. Blazer, Vice Counselor and Head of Chancery of Switzerland in India brought Khajjiar on the world tourism map by calling it "Mini Switzerland". He also put a sign board of a yellow Swiss hiking footpath showing Khajjiar's distance from the Swiss capital Bern-6194 km.
Khajjiar is among the 160 locations in the world that bear topographical resemblance with Switzerland. The counselor also took from Khajjiar a stone which would form part of a stone collage around the Swiss Parliament to remind the visitors of Khajjiar as a Mini Switzerland of India.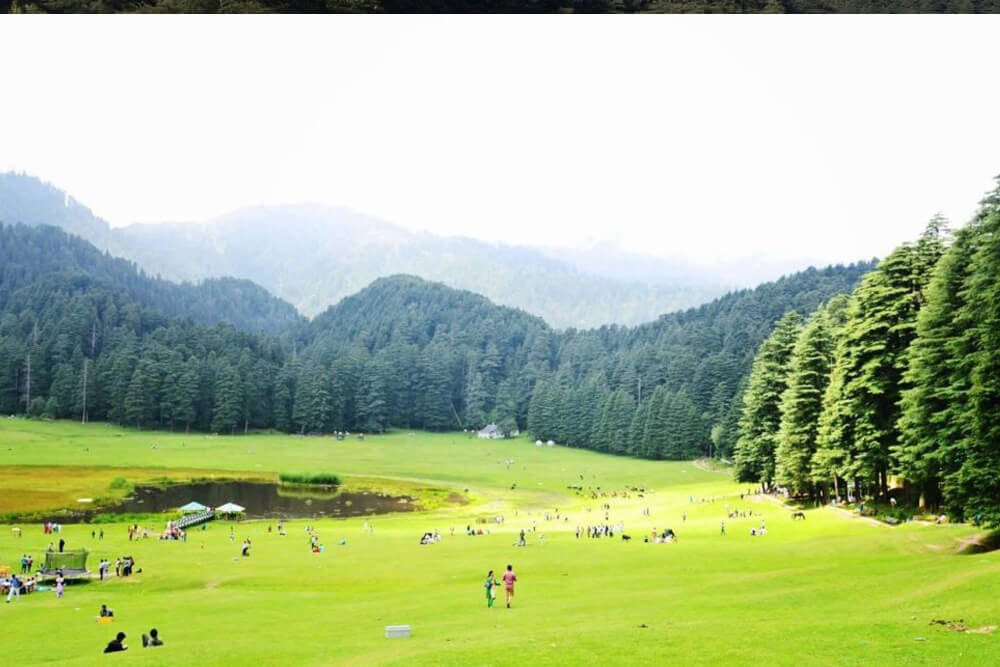 How to Reach Khajjiar?
The town of Khajjiar lies within the Chamba district, and is also well connected to Dalhousie (24 km), from where I t can easily be reached via taxi. The nearest railway station is Pathankot. You can either take a taxi from Pathankot to Khajjiar or travel to Chamba or Dalhousie via bus and then hire a cab from there.
A road trip from Delhi to Khajjiar (570 Km) involves the following route:
Delhi>Sonipat>Panipat>Karnal>Kurukshetra>Phagwara>Jalandhar>Pathankot>Khajjiar
Places to Visit in Khajjiar
Khajjiar Lake: Located at an altitude of 1920 m above sea level between Dalhousie and the town of Chamba, the Khajjiar Lake lies beautifully amidst a widespread grassy landscape, with evergreen cedar trees standing like stationed soldiers around its perimeter. The lake derives its name from Khajji Nag, the established deity in the temple nearby.
Kalatop Wildlife Sanctuary: The main attractions within this scintillating sanctuary include a variety of flora and fauna comprising of leopards, bears, deer, langurs, the Himalayan Black Marten and the Barking Goral.
The Khajjiar Trek: A 14- km trek through landscapes cluttered with deodar and pine trees and interspersed with rippling streams will give you an experience that would be absolutely breath taking to say the least.
Adventure Activities: The place offers a host of thrilling adventure activities like horse- riding, paragliding and zorbing.
Lord Shiva Statue: Polished in bronze, the 85-ft statue of Lord Shiva is one of the tallest in Himachal Pradesh. It is a sight to not just the eyes, but to the heart and soul of devotees of the Mahadev to marvel at.
– The Indian Tourist

Best places to visit in January
Best places to visit in February
Best places to visit in March
Best places to visit in April
Best places to visit in May
Best places to visit in June
Best places to visit in July
Best places to visit in August
Best places to visit in September
Best places to visit in October
Best places to visit in November
Best places to visit in December
Join the Newsletter
To receive our best monthly updates