Beautiful green hills, equally beautiful emerald green river and the shimmering white sand… I thought only Goa could weave such magic…But I was completely wrong. Rishikesh offers you the most enthusiastic yet natural escape you can ever wish for.
"Bungee Jumping! Rock Climbing! Cliff Jumping! Rappelling! Fox Flying!" I could easily hear these words often in the office; in hushed voices in my head I was constantly planning what am I going to try once I reach Haridwar and Rishikesh. I scheduled my trip for March 27, the last weekend of the month and may I believe that it is one of the best months to go rafting in Rishikesh, during this month water temperature is moderate (still cold) and the weather is neither too hot nor too cold; other than that, for best rafting experience one can either go in the months of March to May or between October and November.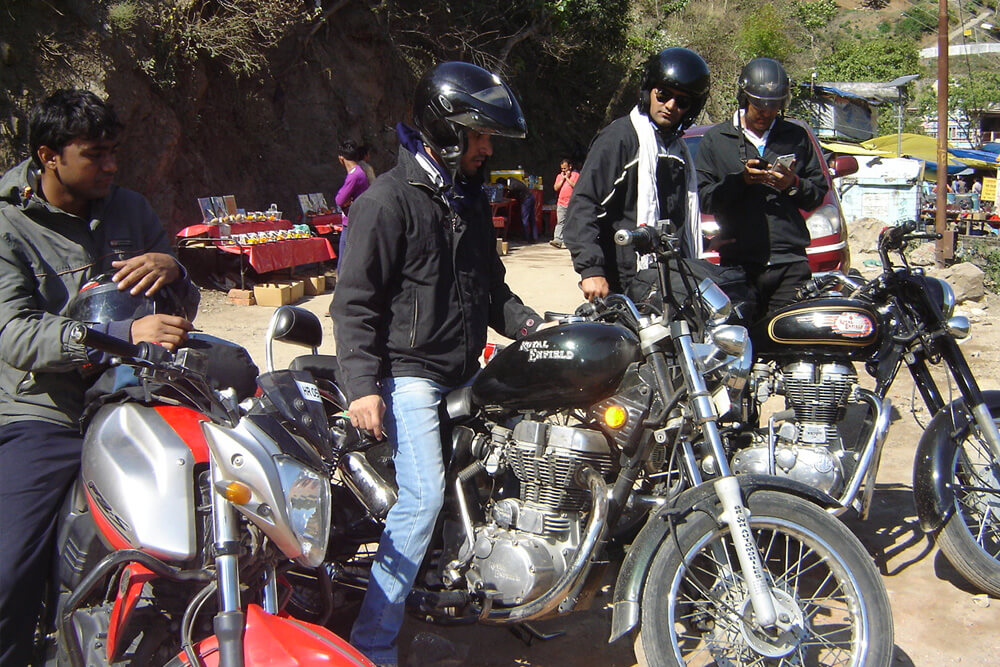 After finishing office on Friday, I planned on leaving for Rishikesh. I chose an enjoyable road trip of 230 KM over the comforting train journeys. I started my trip later that night at around 11 PM. However, I would suggest others to go during day time, considering the hilly road conditions.
The four to five hours' bike journey to Haridwar left me with no scope for sleep, so I decided to click pictures on the way and enjoy the journey. As I had earlier expected, I reached Haridwar at 4 AM.
It was still dark when I reached Haridwar; it seemed almost mid-night to me. My eyes were puffed due to no sleep, but the cool air had started to cast its spell on us, and I craved for tea and a sweat shirt as well. Haridwar welcomed us with sugary tea, beckoning a sweet start to a flavourful journey!
I decided to attend the famous Ganga Aarti at Har Ki Pauri, Haridwar. It is rightly said that your journey to Haridwar is incomplete without attending Ganga Aarti. Making no delay, I took a holy dip in the holy Ganga, the cold water of the mother-river caressed my inner unrest, something that no luxury bath can do. In no time, I got ready to attend the Aarti session. It was 6:00 AM with nearly 10,000 people or maybe even more when the rituals started. With Sanskrit mantras being chanted all over, the beautiful idols being taken on palkis and the magical sounds of bells soon the place created an aura that literally gave me Goosebumps!! Such heavenly feeling makes you question all your beliefs as it actually makes you feel that you are somewhere very close to almighty. Soon the Aarti finished with a chorus chanting of "Har Har Gange, Jai Maa Gange". With lots of positive energy I moved ahead to Rishikesh.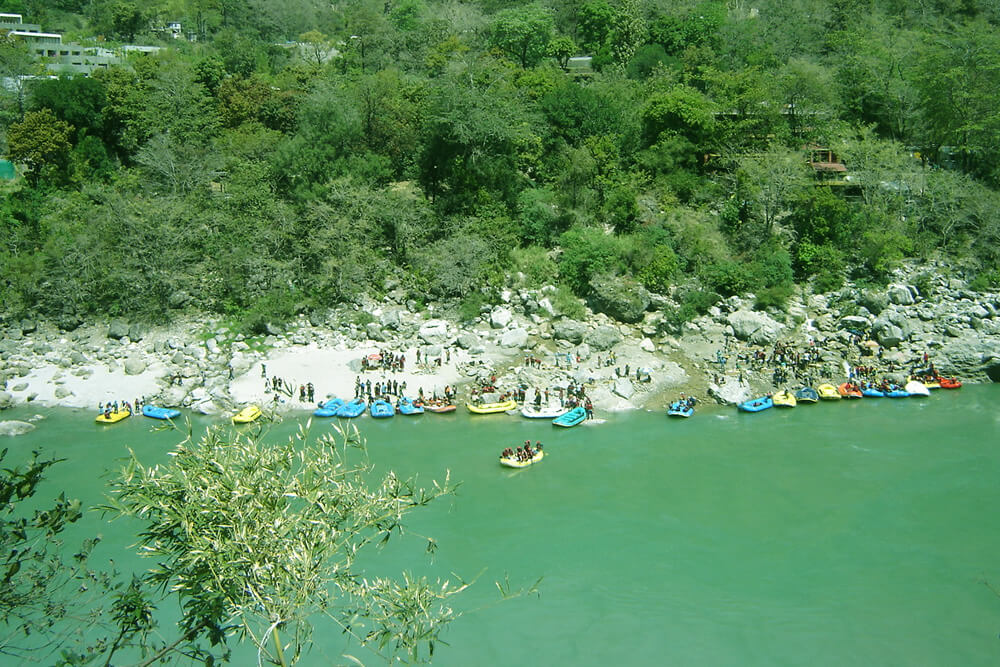 From Haridwar, you can either take a bus to Rishikesh or a three-wheeler auto-rickshaw. Rishikesh is an ideal weekend getaway from Delhi; the place leaves you completely rejuvenated, and helps you conquer your fears and fulfil all your adventure fantasies. So, the best tip for a Rishikesh tour is to leave on Friday evening, reach Rishikesh on Saturday morning (after attending the Ganga Aarti at Haridwar), enjoy the rafting and other adventure activities and then return on Sunday. You are guaranteed to start the new week with a fresh mind and lot of enthusiasm.
I rode my bike to Rishikesh with lots of hopes for my first-ever river rafting. The 40-minute journey is full of picturesque landscapes, a glimpse of the simple life lead by its people, and cold breeze that fills your lungs with excitement. Now the wait was over I soon stepped my feet on the spiritual land where Lord Rama and Laxman took a bath to purge their sins after killing Ravana. I checked in my pre-booked hotel, had dahi and aloo paratha for my breakfast and later the hotel guys arranged my conveyance to the rafting spot. So, here I was, stepping on the white sands, walking in the sun, surrounded by the lush green mountains. Paradise Unparalleled!
Cold breeze welcomed me on the raft, and I got to meet my fellow rafters. Everyone was ready with essential rafting gears like helmet, lifeguard and paddle.  That seemed nice, we started with some gentle rowing, laughter and smiles…The first rapid was a mild one…the best was about to come! I could hear the sound of the second rapid and it seemed dangerous, our guide instructed that we need to row together and faster when we reach the rapid…that was alarming… We finally faced the second rapid that gave us the taste of extreme adventure; the front of the raft dived in to the river, with Jatin, Manish (my fellow rafters) and I literally drinking the water of Ganga with both mouth and nose…BIZZARE! We were out of the rapid and were alive! On the third major rapid the raft completely turned towards the right, I once thought that Manish might fall off, but he survived, he was rowing hard, with his eyes closed, which made me laugh…he was doing everything he could to survive in this particular rapid. By the fourth rapid named Roller Coaster, which was the longest, everyone was a bit tired but DAMN the monster rapid put everyone in an alert position, Manish again rowing with closed eyes and I was waiting for the tide to come to him, as I didn't want to row in the air…LOL! I felt someone was throwing bucketful of water on me, the warm weather and cold water made for a strange combination. It was at least 10 minutes of fast rowing that pulled us out of the gigantic rapid…the quite water followed with few minor rapids to N.I.M Beach…We had just faced death and lived a life!!
By the end of the day somewhere, somehow, I fell in love with Rishikesh. I ended my trip with a hope that I will get to come here again.
– The Indian Tourist
Best places to visit in January
Best places to visit in February
Best places to visit in March
Best places to visit in April
Best places to visit in May
Best places to visit in June
Best places to visit in July
Best places to visit in August
Best places to visit in September
Best places to visit in October
Best places to visit in November
Best places to visit in December
Join the Newsletter
To receive our best monthly updates